Please Join Me For My October 30, 2019,
Joint Venture Webinar!
The First Mailing Date is Wednesday,
October 23, 2019 at 5 AM Pacific Time.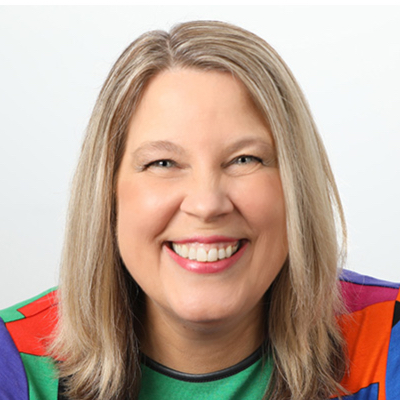 Hello Friends, Affiliates, and Joint Venture Partners,
I haven't done an affiliate launch in several years.  I'm opening up my next workshop to a few select referral partners and if you're seeing this, then you are one of them!
I've waited so long for a few reasons:
✅ I wanted to develop a program that would be directly related to helping people become influencers.
✅ I wanted to perfect a webinar to promote this program so that I had an offer that converts.
✅ I wanted to partner with the right people (and you're one of them!)
I'm happy to report my new program, Train Your Brain for Influence and the corresponding webinar, "Get Clients and Build Your Cult Following" tick all of the boxes.
We have tested this workshop, and tested again.  Our conversion numbers are now high enough that I now feel confident enough to open it up to affiliates.
The most recent conversion rate for this online workshop was $29 per person registered.   (The lowest it's EVER tested out is $15 per person registered.)
That's per REGISTERED (not per attendee.)
Outside of the pure numbers, I reached out to you because I believe that your followers will greatly benefit from both the webinar and the program, Train Your Brain for  Influence.
Train Your Brain for Influence is the best online video program I've ever created and I think it aligns perfectly and will compliment what you teach.
My promise to you:  I'm committed to making every email you send for this launch incredibly profitable for you.  And I'm committed to helping your followers see that it's possible for anyone to "step into their celebrity."
I think it's a win-win-win.   You win, I win, and your followers win.
I hope you want to join me for this fun ride.  The details are below.  🙂 Dana
FIRST MAILING:

  Wednesday, October 23, 2019, at 5 AM Pacific Time
DATE OF ONLINE WEBINAR:  Wednesday, October 30, 2019, at 11 AM Pacific Time
REPLAY AVAILABLE: From Wednesday, October 30, 2019 until Sunday, November 3, 2019 at 11:59 PM Pacific Time.
CART CLOSES:  Sunday, November 10, 2019 at 11:59 PM Pacific Time.
YOUR AFFILIATE LINK, EMAIL SWIPE COPY, GRAPHICS, AND SAMPLE SOCIAL MEDIA POSTS WILL BE IN YOUR REFERRAL PARTNER'S BACK OFFICE (WHICH YOU WILL BE ABLE TO ACCESS AFTER YOU SIGN UP.)

WATCH THE BACK OFFICE WALK THROUGH 

VIDEO
In our marketing copy, we use the  terms "webinar", "workshop", and "masterclass" interchangeably, but we're always referring to the online event to he held on Wednesday, October 30, 2019 at 1 PM Pacific Time. 

CLICK HERE

to see the registration page.

DATE:  Wednesday, October 30, 2019
TIME:  11 AM Pacific | 12 Noon Mountain | 1 PM Central | 2 PM Eastern | 7 PM London | 5 AM Sydney (Thursday morning)
WHO IT'S FOR: Coaches, Authors, Energy Practitioners, Direct Sellers, Entrepreneurs in the Personal Tranformation Space, and anyone who can benefit from becoming the "influencer" in their niche.
CONTENT:
Dana will show you the steps to WORKING LESS and MAKING MORE and attracting your ideal client. (You can implement these methods even if you HATE livestreaming, don't want to be the center of attention, and are not-techie!)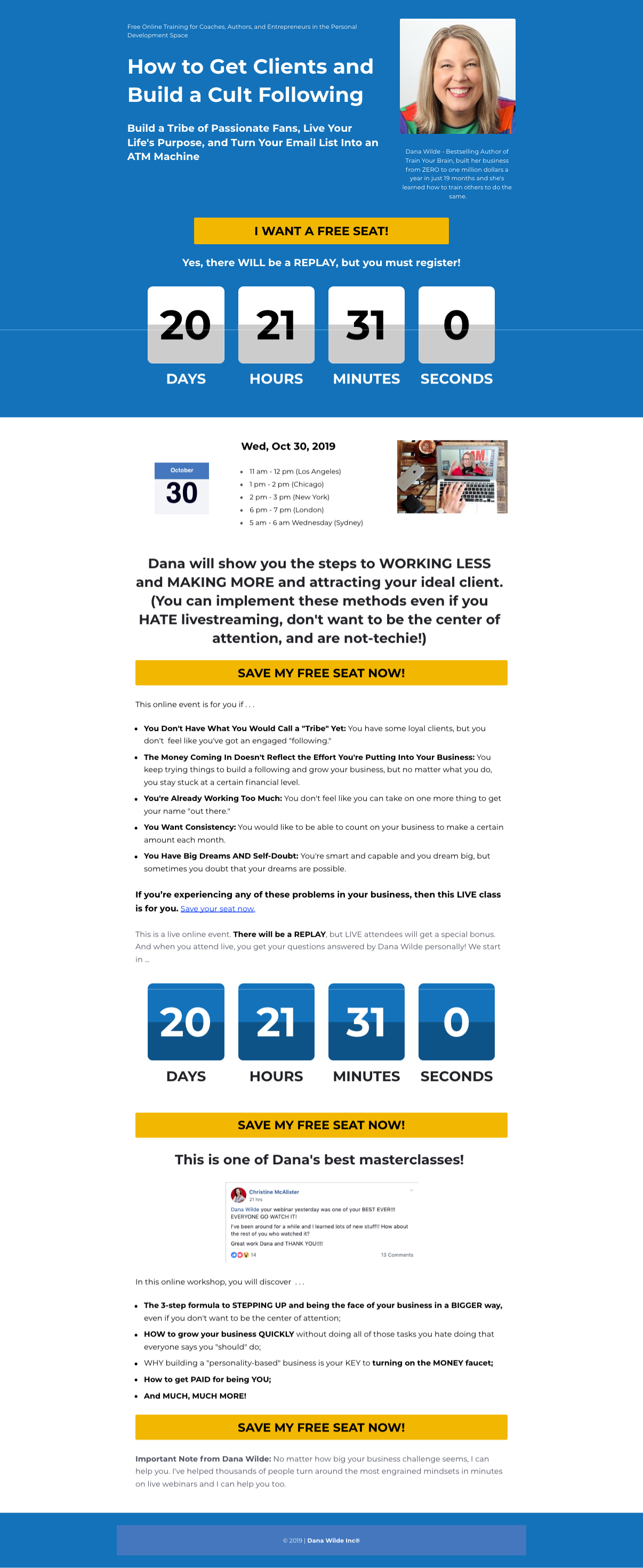 ENCOURAGE YOUR PEOPLE TO ATTEND LIVE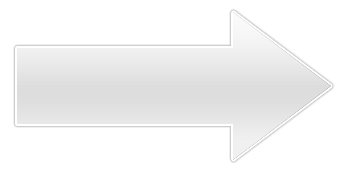 IF AT ALL POSSIBLE, ENCOURAGE YOUR FOLLOWERS TO ATTEND THE WEBINAR LIVE BECAUSE

THERE WILL BE A FAST ACTION BONUS FOR ATTENDEES OF A ONE-ON-ONE CALL WITH DANA WILDE!



TRAIN YOUR BRAIN FOR INFLUENCE is an online video course that is delivered over six months and includes two group calls a month with Dana Wilde.

It is the ONLY course in existence to combine mindset, marketing, and influence.  You can see the current sales page HERE.
PROGRAM COST:  Early Bird Pricing $997 (50% Affiliate Commission Payout) or three payments of $397 each (also with a 50% Affiliate Commission Payout.)

PROGRAM DURATION:  It takes six months to complete the program.
DELIVERY SYSTEM:  Online video modules will be released once a week for 24 weeks. Participants will have lifetime access to the modules.  The 24 modules are divided into eight categories:
Brain Training 101:  Change Your Results in 72 Hours
Prime Your Brain  for Success:  Learn How to Think Like a Rich Influencer
Embody Your New Thinking:  Make Influencer Thinking Your Default
Attracting the Right Clients:  How to Guarantee You're Attracting Awesome People to Your Tribe
Marketing Your Way:  How to Get the Word Out in a Way that Feels Good
Creating Dynamic:  Why Your Client Should Buy from YOU
Stepping Into Your Celebrity 101:  How to Position Yourself as an Influencer Without Feeling Weird
Tribe Building:  How to Create a Sandbox Filled with Engaged, Passionate Followers
CONTENT AND OBJECTIVES:  Over the 24 weeks, participants will have profound shifts in their mindset, marketing, and influence.  They will revamp their mindset and businesses from the ground up.  By the end of the course, they will fully understand how to become the influencer in their respective markets.
LIVE SUPPORT:  Participants will have the opportunity to attend two LIVE group calls with Dana Wilde each month.  If they can't attend live, they can email their questions to a private email address, have them answered during the sessions, and listen to the answers on the replay.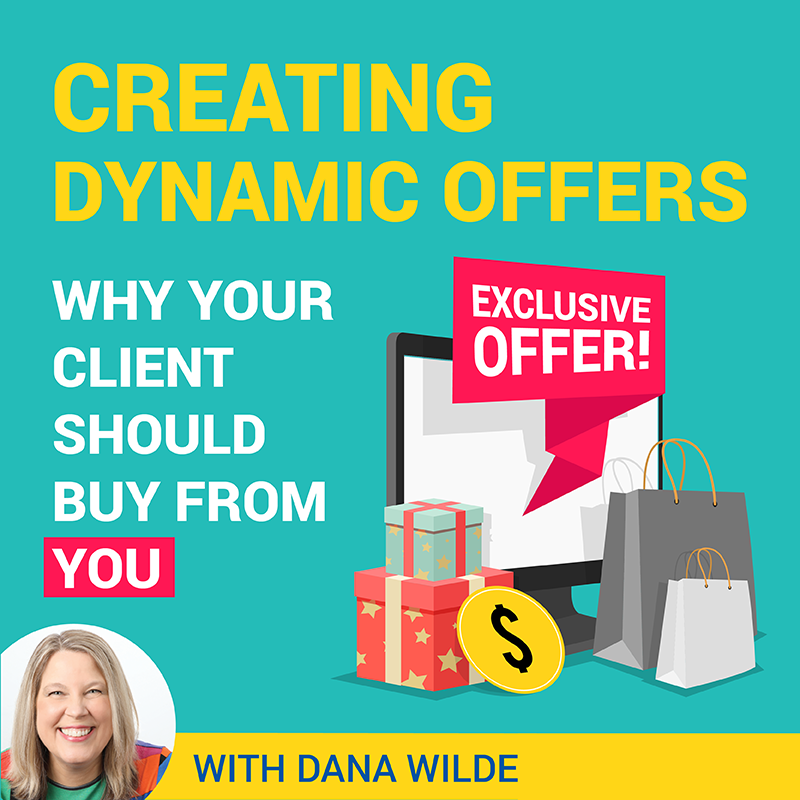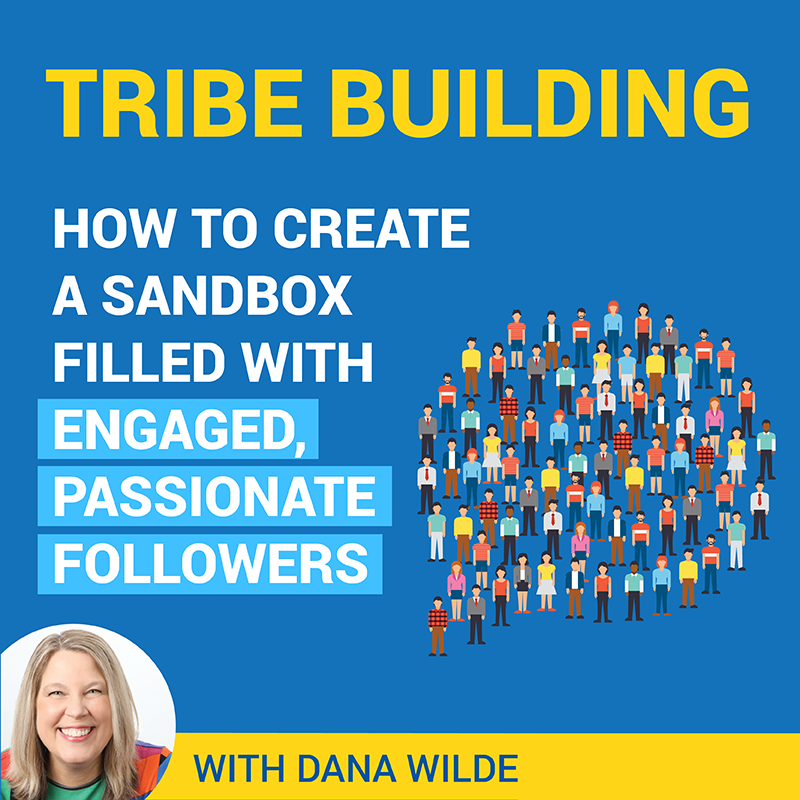 We'd be thrilled to have you as a Referral Partner!