IT'S HARD ENOUGH TO STAY POSITIVE
JUST DEALING WITH "LIFE."
(And you're trying to build a business too?)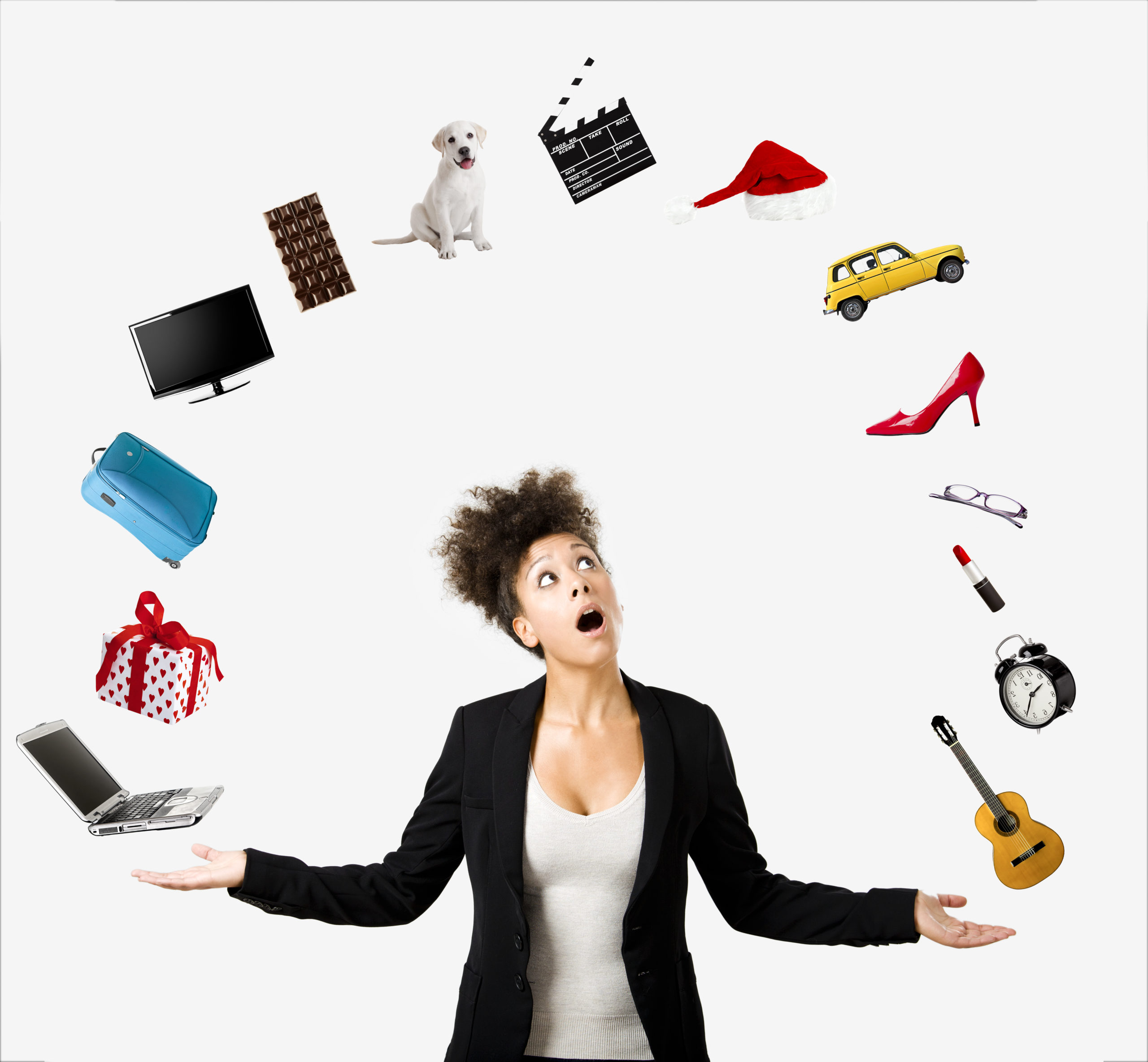 Are you an ENTREPRENEUR who is wearing all or most of the "hats" in your business?
Could you use help staying MOTIVATED on a day-to-day basis?
Do you wish you could feel more CONFIDENT about growing your following and your business?
Do you sometimes feel ALONE?
Do you wish your BRAIN would get on board with your DREAMS?
IF SO, THEN IT'S TIME TO JOIN …
TRAIN YOUR BRAIN U
✅ Live Access to Dana Wilde Twice a Month
– Chief Brain Trainer and Celebrity Maker!
✅ Mindset AND Marketing Training
– New Content Added Every Month!
✅ The Smartest Community of Brain Training Entrepreneurs on the Planet!



"WOULDN'T YOU LOVE TO BE A PART OF A COMMUNITY THAT NOT ONLY UNDERSTANDS MARKETING, BUT ALSO UNDERSTANDS MINDSET?"
WE GET IT!
You are tending to a household, other people, your community, your pets, and sometimes a "day job" too AND you're trying to grow your FOLLOWING, build your business, and make some SERIOUS money!
You not only have a lack of time to do all of the things "they" say you should do, but you also sometimes wonder if it's all a pipe dream.   If success really is "between your ears", then how do you stay positive when you're overwhelmed?
Train Your Brain U helps you to keep the MOST important part of your business on board — your mindset!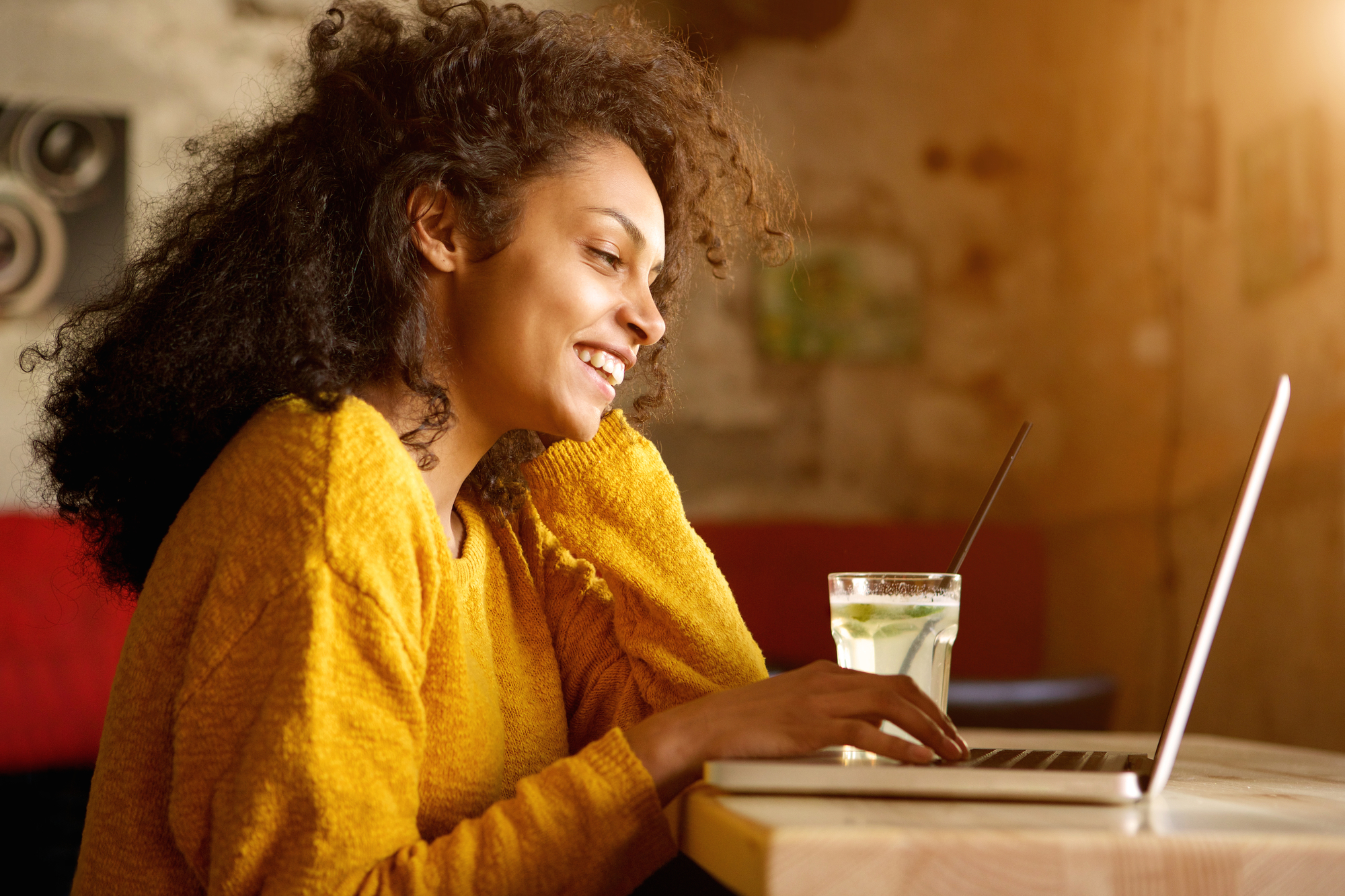 For only $97 a month, you get access to the BEST in Mindset AND Marketing!
What Makes Train Your Brain U Different?
We are a community of entrepreneurs who know that MINDSET is the most important aspect of building a business!
When you FEEL GOOD …
… you FEEL like taking action;
… you have access to a better brain and better ideas;
… you make better choices;
… you like people better;
… and they like you better too;
… the action you take meets with success;
… you're more productive and you make more money.
… and you show up as the BEST YOU!
THERE IS NO OTHER PROGRAM LIKE TRAIN YOUR BRAIN U ANYWHERE!
 

TWO GROUP CALLS


EACH MONTH
with Dana Wilde




for ONLY $97 a month!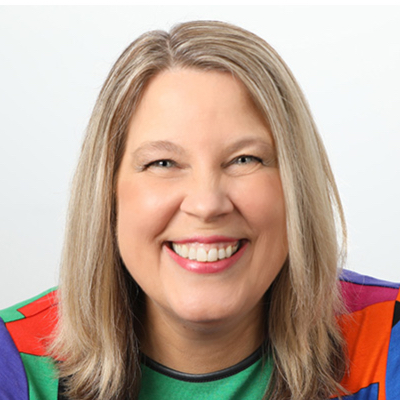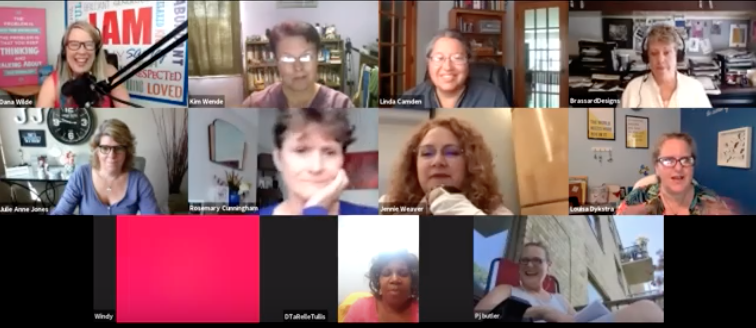 TWO LIVE SESSIONS WITH DANA WILDE EVERY MONTH!
If you CAN attend live, then you can unmute and ask Dana a question directly.  Get ideas for your marketing or let Dana help you with a POSITIVE "rant" that gives you a mindset shift! 
If you CAN'T attend live, then no biggie!  Send your question to the special TYBU email address and Dana will answer it during the session and you can listen on the replay!
Unless you are in one of her high-end programs, you cannot get ACCESS like this!  It's like having Dana as your PERSONAL COACH!   
For only $97 a month, you get access to the BEST in Mindset AND Marketing!
"If you're not in Dana's tribe yet, GET IN THERE! …"
"After struggling to adapt someone else's model for how to get traction and clients online, I applied Dana's concept of feeling good about the action I'm taking before I take it.  I started using affirmations and visualization daily to tap into my intuition, and began taking intentional action just like Dana has taught me to do.
"In the first month of this new mindset practice, I set an outrageous financial goal with no idea how I'd achieve it. Even through that doubt, I stuck with my intentional action plan and at 4:15 pm on the final day of the month, manifested the final $3100.00 to beat my $10,000.00 goal by $98.61.
"As Dana says, it's not about what you do to get there…there are as many paths to success as there are people… it's about how you FEEL on the journey that informs your success.  If you're not in Dana's tribe yet, GET IN THERE! It will change your life. The free content she shares weekly is better than most paid training I've taken, the people in her community are positive and inspiring, and Dana's fun, positive energy can put a smile on my face no matter what's happening in my life that day."
~ Julie Anne Jones, The Virtual Rockstar and creator of The Online Course Academy
ACCESS TO THE BEST

MINDSET

TRAINING!


AND WAY MORE THAN YOU SEE HERE!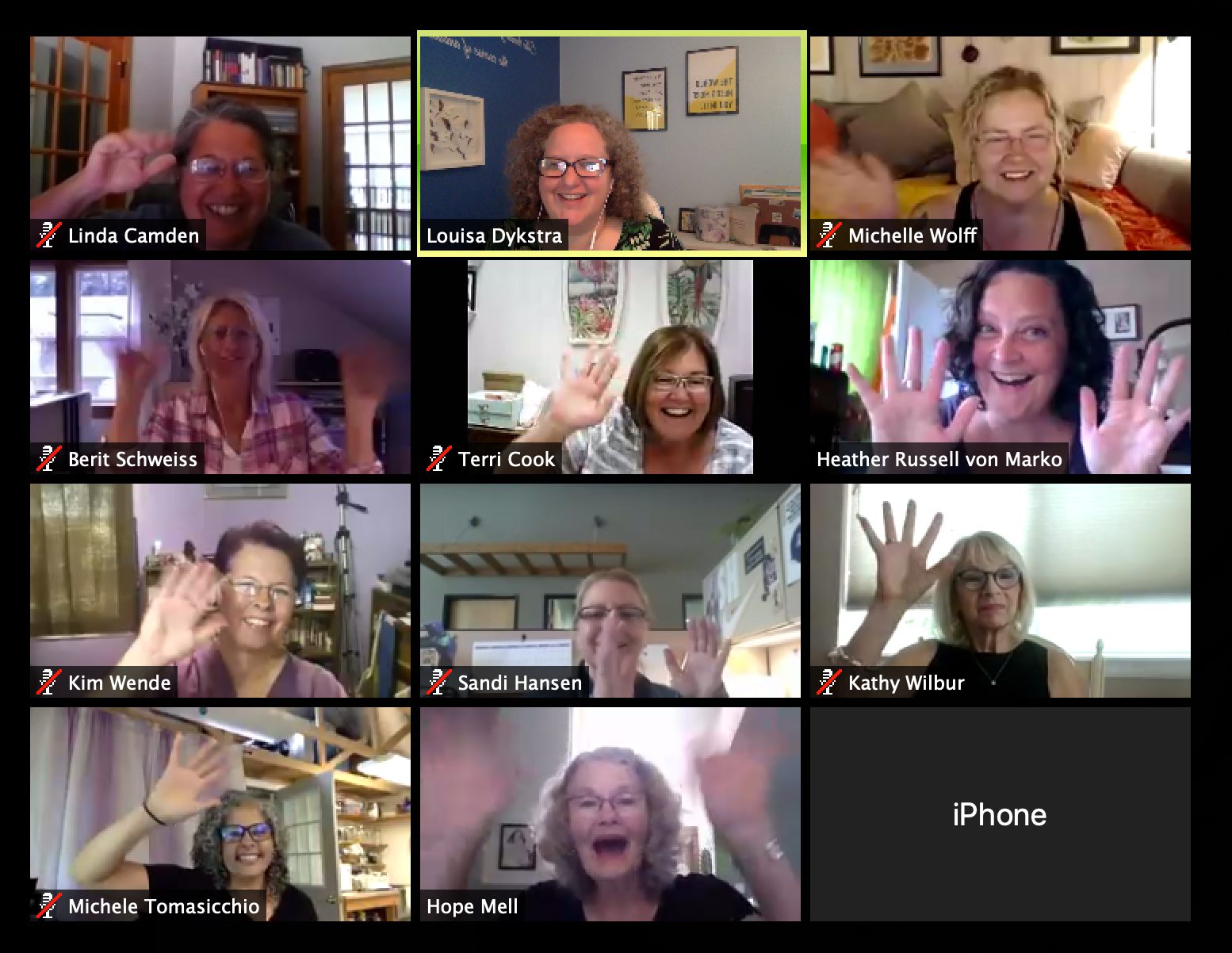 THE

MOST

AWESOME COMMUNITY OF BRAIN TRAINERS!
If you think it's fun to hang out with ONE person who "gets" that mindset is important, then try a whole COMMUNITY of people who "get it!"
Brain trainers are fun, irreverent, dedicated to personal development, and excited about building their businesses!   They are "stepping into their celebrities" and become MASTERS of emotion!
They KNOW that when you are happy, you get results and their attitudes are CONTAGIOUS!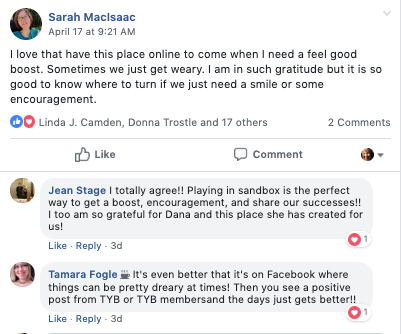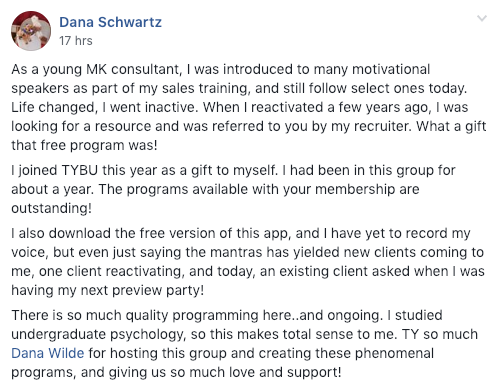 ACCESS TO THE BEST

MARKETING

TRAINING!


AND WAY MORE THAN YOU SEE HERE!
IF YOUR BRAIN IS THE ONLY THING STANDING IN THE WAY OF YOUR DREAMS, THEN YOU NEED TRAIN YOUR BRAIN U!
WORKING HARD DOESN'T WORK.  MORE "HUSTLE" DOESN'T WORK.  YOU ALREADY KNOW POSITIVE MINDSET IS THE ONLY THING THAT WORKS.
BUT WAIT!  WE'RE JUST GETTING STARTED!
YOU ALSO GET ACCESS TO REAL WORLD CASE STUDIES!
REAL BRAIN TRAINERS SHARING THEIR REAL RESULTS! 
LEARN HOW THEY DID IT SO YOU CAN DO IT TOO!



FEEL GOOD FIRST, THEN TAKE ACTION!  IT WORKS!
"I find Dana Wilde's programs, courses, and tribe an invaluable resource …"
"In my business, I help to develop children's brains and bodies and teach parents and teachers how to do the same while remaining happy, calm and sane.  I find Dana Wilde's programs, courses and tribe an invaluable resource.
"Dana helps me to be happy being me and also successful in running my business. She provides leading-edge information that is simple, powerful and easy to apply in your business and consistently supports you almost on a daily basis.  
And in Train Your Brain U you will find a wonderful and enthusiastic bunch of members who are just as enthusiastic and supportive.   I LOVVVVVEEEEE THEM ALL AND DANA!!!!"
~ D'TaRelle F. Tullis, Founder, and Owner of Pitter Patter Feet:  Creative Movement and Dance for Children
For only $97 a month, you get access to the BEST in Mindset AND Marketing!
"REALLY, AREN'T YOU READY TO SHIFT YOUR MINDSET ONCE AND FOR ALL?"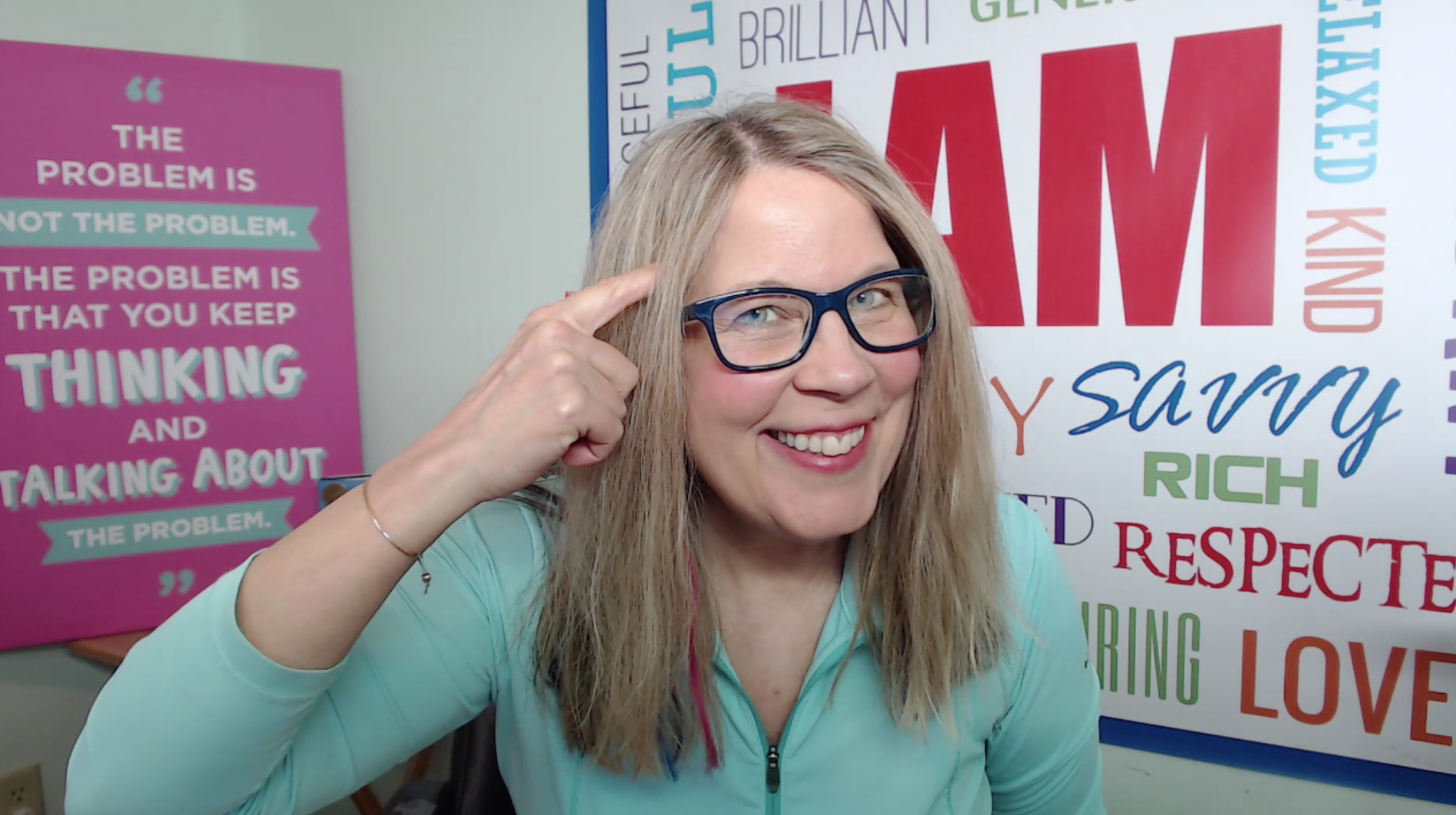 Dana Wilde Can Help You Make Money for Being HAPPY and Get Paid for Being YOU!
Dana Wilde is an expert in how to intentionally and systematically change your mindset so you get better outcomes.  After growing her own business from zero to a million dollars a year in under 19 months, Dana can teach you how to make money by being happy and get paid for being YOU!  With nearly 100,000 followers in 87 countries, Dana is the bestselling author of Train Your Brain and featured in the movies, The Abundance Factor, The Truth About Prosperity, and Dream Big.  Fascinated by neuroscience and the power of the mind, she affects lives daily on The Mind Aware Show, where she interviews thought leaders, brain scientists, and celebrities about how to intentionally think wealthier, happier, and healthier thoughts.  

Copyright © 2019 | Dana Wilde Inc.